CWS title at 10: Andy Lopez on Arizona's 'remarkable' championship run in 2012 | Arizona Wildcats Baseball
What made the 2012 Arizona baseball team so special?
"Honestly," star pitcher Kurt Heyer said, "it's giving me chills just thinking about it."
Ten years have passed since the Wildcats won the College World Series. Heyer needed no time to summarize how it all came together.
"We bought into what Lopez was feeding us," Heyer said, referring to the architect of that title team, Andy Lopez. "It's not like we had guys that threw 98 or guys that hit 20 home runs. It was just guys that knew how to play the game and execute the game.
"That was the thing that separated us. We were able to minimize mistakes and just play the game right. We weren't flashy. We just went in and took care of business.
"It was like a job for us. It was like, 'All right, we're here for three hours. Let's execute the game as best we can and go home with a W.' And that's it."
Heyer makes it sound so simple. In reality, it took years of building — and multiple disappointments — for the UA program to win its first championship since 1986.
Lopez took the job in July 2001 after a seven-year stint at Florida during which the Gators twice advanced to the CWS. Lopez previously had led Pepperdine to the national championship.
Arizona was in the midst of a down cycle. The Wildcats had qualified for the NCAA Tournament only once in the previous eight seasons.
In Lopez's third year, 2004, they made it back to Omaha. In 2008, they made it to a Super Regional. In 2012, they broke through.
Lopez, 68, retired after the 2015 season. He lives in Tucson and remains as sharp and engaging as ever.
In a recent phone interview with the Star, the Hall of Fame coach reminisced about the 2012 championship run. The 90-minute conversation has been condensed and lightly edited:
When you think back to that team and that year, what is the first thing that comes to mind?
A: "Honestly, satisfaction. A real kind of completion for me personally.
"From 1995 to 2001, I was consumed with trying to do a good job at Florida. A lot on my plate. I really had no clue what was going on in the Pac because I was consumed with the Southeastern Conference and just trying to make it work there.
"I had no clue that this program, when I showed up here to take the job, had been to one regional in eight years and went 0-2 in that regional.
"I was in the Dallas airport. I looked at it and I went, 'Holy smokes, what happened?' So I made a couple of calls. I called two guys that were very successful in the conference, Mike Gillespie at USC and Mark Marquess at Sanford. I said, 'Hey, talk to me a little bit about the program.' They both said the facility is down, it's not relevant; they're not a threat in conference anymore, they don't go to regionals anymore.'
"So I thought to myself, 'Boy, we really gotta make some adjustments.' With all that as the background, we go to Omaha my third year here. That's great. In 2008, I really feel like we should have won a national title. We had great pitching that year, fantastic pitching.
"And then 2012 happened. It's just the sense of accomplishment that we did what we said we were going to do. When (former AD) Jim Livengood called me, I said I really believe that we can win a national title, because it's been done. If it's been done, it can be done again.
"For my athletes, what a special year. They really weren't given a lot of credit. But what they were able to do was remarkable."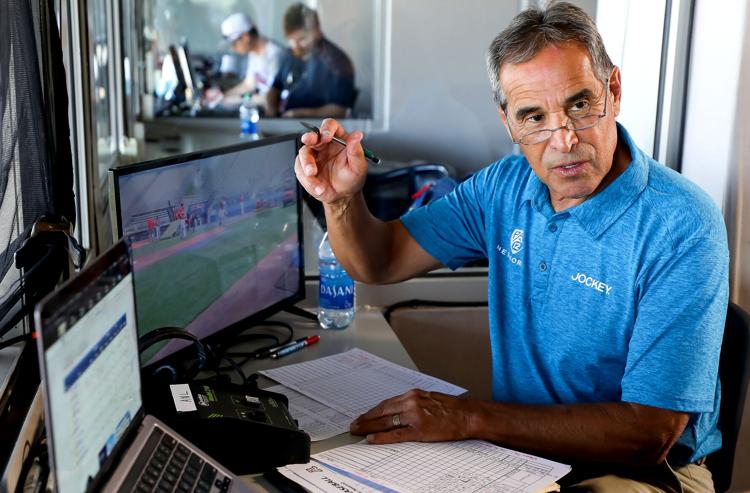 How did you go about building the program up?
A: "Recruiting. I had a track record that wherever I went, we went to a World Series. I looked at the teams at the top. I got their rosters. Where are they recruiting from? Where are they getting their players? We need to get players from there.
"When I came here, I got USC's roster, I got Arizona State's roster, I got Stanford's roster. … I asked Matt Rector (former Arizona sports information director), (to) give me the '76 roster, give me the '80 roster and the '86 roster (the UA's previous three CWS champs). I looked at those rosters. Where are they getting their players from? I knew, but I just wanted confirmation: They were getting their players from California.
"That's the answer. People were upset with me about that: 'You're not recruiting Tucson guys.' But we (had to) get back on top. We (had to) get back to national prominence.
"The rosters of '76 and '80 and '86, they had some Tucson guys. But … there's a lot of California flavor.
"So we started recruiting heavily back in Southern California. And fortunately got some pretty good players."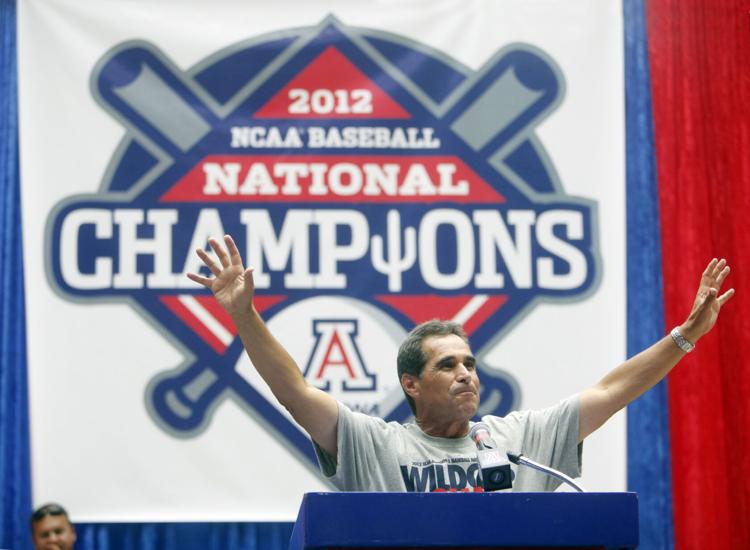 What was the impact of moving to Hi Corbett Field that year?
A: "Game changer. We were a (regional) 1-seed in '05 and went to Fullerton. We were a 1-seed in '08 and went to Michigan. I mean, come on. We're a 1-seed and we're traveling all over the country?
"The facilities were down, they were old. All due respect, I won my 1,000th career game at (Frank Sancet Stadium). I have great memories. Coach (Jerry) Kindall and I were dear friends. I know he wasn't real happy about us moving away from Sancet. I told him, 'I understand completely. But we can't host here anymore. They won't give it to us. We gotta do something.'
"Lo and behold, we were a 1-seed (again). We host and we win and go to Omaha. It wasn't hard to figure out."
You beat St. John's in the Super Regional in blistering heat.
A: "Murderous. No doubt. There will always be an advantage. I always felt like it was an advantage when we played the Northwest schools here in May. I did the Pac-12 games here for the Oregon State series (this year). I said that on the air. Two things are going to happen this weekend: One, it's going to be really hot for these guys from Corvallis, and you'll see it from the fifth inning on. We used to see it all the time.
"The other thing is the field. It's going to be rock hard, and it's going to play fast. Groundballs are gonna get on people; groundballs are gonna chew people up. Lo and behold, their shortstop made a couple errors.
"So yeah, when St. John's came in, it was hot. Man, it was hot."
Was there a point during the 2012 season when you thought, "Hey, we might have something special here?"
A: "Believe it or not, after we got beat (the year before). In 2011, we go to Texas A&M and we get to the championship game; winner goes to the Super Regional at Florida State. And we're lined up good. (Aggies aces Michael Wacha and Ross Stripling already had started in the regional.)
"We go up to the field. We're feeling pretty good. And it's a lightning delay. We do not play that game because of lightning. It never rained. It did not rain one drop.
"We get on the bus, we go back to the hotel and guess what? They checked us out of our hotel. We have no rooms. It's like 11:30, midnight. We gotta play the next afternoon. So they start scrambling. They put me and two or three of my players and my coaching staff at one hotel; they put another group in another hotel. It's like we're vagabonds.
"But I thought, 'These guys are tough.' They showed it to me that year. We go back and we're facing Michael Wacha now. (Wacha was able to pitch because of the postponement.)
"We get beat. (But) it's within reach. I saw the look on those guys' faces. If these guys stay healthy next year, they're gonna be juniors. These guys are going to do some damage.
"They solidified that for me when Stanford showed up here. They were loaded. They had first- and second-rounders all over the field, and we swept them.
"I remember going to dinner after the game on Sunday. We'd go to the Claim Jumper. My wife was sitting next to me. She said, 'Wow, what a good weekend.' And I whispered in her ear, These guys are gonna make a run — they're gonna make a long run.'"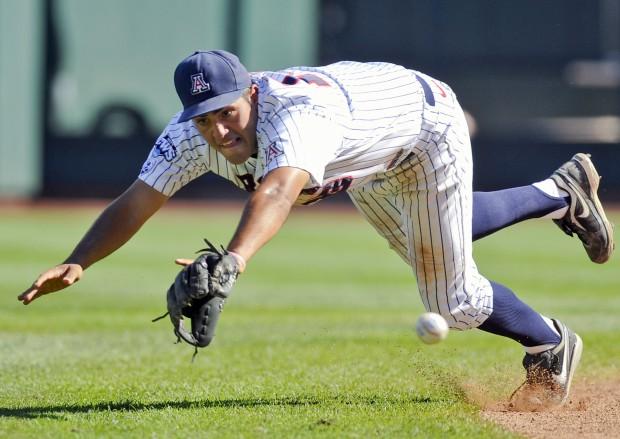 Fast-forward to the postseason. You make that run. You sweep South Carolina. Robert Refsnyder secures the final out.
A: "Then the circus starts. I have two pictures in my office. Two baseballs and two pictures, both the last outs in Omaha. The '92 picture, we (Pepperdine) beat Fullerton for the national title and … there's no one to be seen. There's nothing except a bunch of guys in a dogpile.
"Right underneath, the 2012 picture, it looks like a rock concert. Confetti, fireworks, (former AD) Greg Byrne's on the field.
"I would never include myself in dogpiles. I just used to sit back and admire what those young guys accomplished.
"What an unbelievable experience. I saw my sons (both walk-on players) be a part of that dogpile. I saw Bobby Brown, who was a fifth-year senior who (had) never played.
"It was a good group, man."
Undefeated in Omaha: Relive Arizona's run to the 2012 College World Series championship
Wildcats captured fourth national title in 2012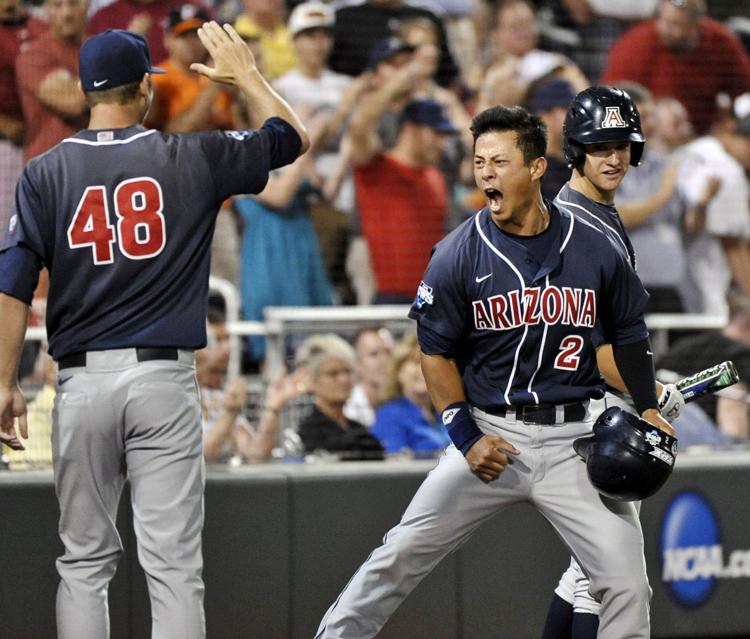 On June 25, 2012, the Arizona Wildcats won the College World Series.
It was the fourth national championship for the UA baseball program — and a long time coming.
The Wildcats had won it all three times in an 11-year span from 1976-86 under legendary coach Jerry Kindall. They hadn't been able to recapture that glory — and had made it Omaha only once — in the ensuing 25 years.
That all changed in 2012. Coach Andy Lopez rode a sturdy starting rotation and a veteran, athletic lineup to a national title. Unlike previous years, the postseason road to Omaha went through Tucson thanks to the program's relocation to Hi Corbett Field.
Saturday marks the 10th anniversary of that accomplishment.
Here's a look back at each of Arizona's five victories in the CWS.
June 15, 2012: Wildcats outlast Seminoles in 2012 Omaha opener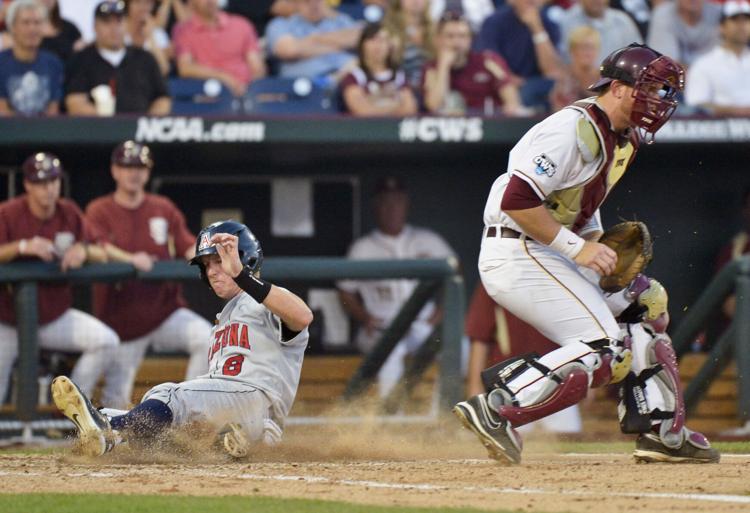 We begin with the Wildcats' Omaha opener, which followed a clean sweep of the Tucson Regional and a Super Regional sweep over St. John's.
Date: June 15
Opponent: Florida State
Final score: Arizona 4, FSU 3 (12)
What went down: The teams were tied 3-3 through six innings, and the score remained that way until the Wildcats broke through in the 12th. Joey Rickard doubled — Arizona's first extra-base hit of the game — and Johnny Field followed with a double of his own to drive in Rickard with the go-ahead run in the top of the 12th.
Mathew Troupe then closed out the third-seeded Seminoles, although not without a bit of drama. Troupe hit FSU's Seth Miller, who then advanced to second on a wild pitch. But Troupe struck out Devon Travis to end the game.
Troupe and Tyler Crawford combined to pitch 4 1/3 scoreless innings — more than the entire bullpen had thrown in the preceding five postseason games — in relief of ace Kurt Heyer, who allowed three runs (one earned) in 7 2/3 frames. Arizona advanced in the winners' bracket to a meeting with conference rival UCLA, the No. 2 overall seed in the 2012 NCAA Tournament.
By the numbers: Heyer allowed a solo home run to Sherman Johnson to lead off the bottom of the third inning. It was the first homer Heyer had surrendered since April 5, a span of nine starts.
They said it: "Momentum is a huge thing, and being able to get that first win will carry us forward. I think we'll ride the momentum Sunday and for the rest of the World Series." — Troupe
"Really proud of our two freshmen coming out of the 'pen. We do not win tonight without Crawford and Troupe doing what they did." — Lopez
We wrote it: The Arizona Wildcats' first College World Series game since 2004 was a showcase of styles and a battle of wills.
When the UA blew a two-run lead in the sixth inning and the game crawled into midnight, the club's chances of winning seemingly shriveled.
But then Arizona catcher Riley Moore threw out the potential tying run, and Mat Troupe picked off a baserunner. And then Joey Rickard doubled, and Johnny Field — 0 for 4 at the plate — did the same, and the UA found itself staring at serious Omaha stakes.
The result: An opening-night shocker on college baseball's biggest stage.
Where are they now? Right fielder Robert Refsnyder batted cleanup and led Arizona with two RBIs. Refsnyder recently was recalled by the Boston Red Sox, who signed him as a free agent in December. Refsnyder was batting .391 (9 for 23) for the Red Sox — his fifth major-league club — through Sunday.
Up next: Arizona (44-17) vs. UCLA (48-14), June 17
June 17, 2012: Wildcats' Konner Wade blanks Bruins with nary a walk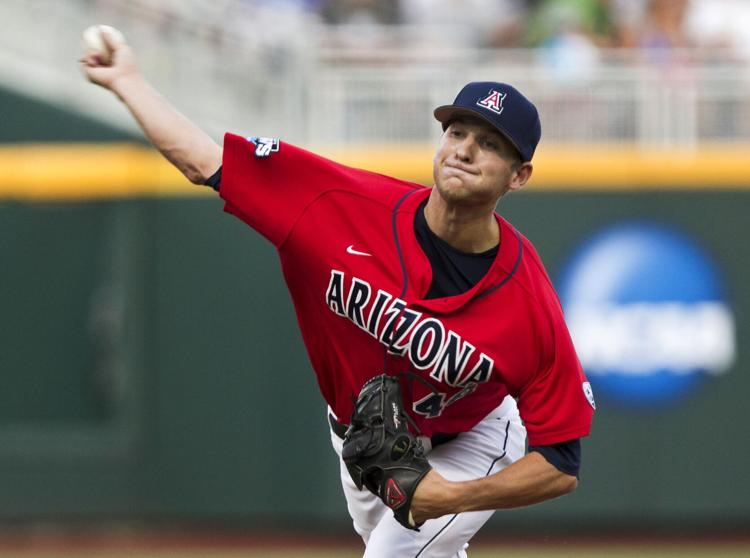 The Arizona Wildcats' road to the 2012 College World Series championship included a faceoff against a familiar foe.
After defeating No. 3 overall seed Florida State in its Omaha opener, the UA squared off against No. 2 seed UCLA.
The Bruins took two of three from the Wildcats in a mid-April series at Hi Corbett Field. It was a rare series loss for Arizona, which ended up sharing the regular-season conference crown with UCLA.
Like the Wildcats, the Bruins had swept their way through the postseason. Not only that, but UCLA rarely had been challenged; its narrowest margin of victory in the NCAA Tournament was three runs.
Would the story change in the fourth meeting between the West Coast rivals?
We'll revisit the Arizona-UCLA matchup from the CWS:
Date: June 17
Opponent: UCLA
Final score: Arizona 4, UCLA 0
What went down: Sophomore right-hander Konner Wade dominated the Bruins.
Wade fired a five-hit shutout (all singles). He struck out four UCLA batters and didn't walk any, recording the first complete-game shutout without a walk in CWS play since 1972. Wade also became the first UA pitcher to toss a shutout in Omaha since Craig Lefferts in 1980.
The Bruins' biggest threat came in the fifth inning, when they loaded the bases with two outs. But Wade got Kevin Williams to fly out to left field to end the frame.
The Wildcats led 4-0 at that point, having scored all of their runs in the bottom of the fourth. Designated Bobby Brown delivered the key blow, a two-RBI double that scored Robert Refsnyder and Seth Mejias-Brean, who also knocked in two with a base hit.
Florida State eliminated UCLA two days later, setting up a CWS rematch between the Seminoles and Wildcats.
By the numbers: Wade extended his walk-less streak to 25 1/3 innings and lowered Arizona's postseason ERA at that point to 2.01. UA pitchers issued only eight walks and threw four complete games in the Wildcats' first seven postseason contests.
They said it: "(Wade) pitched as well as anybody we've seen all year. We weren't ourselves, but it had a lot to do with him. We were uncharacteristically impatient. And that's what good pitchers do." – UCLA coach John Savage
"They like to play. They like to compete. They don't — well, they're not in awe of too many things. It's an easy group to be around." – Lopez
We wrote it: Eight times in eight innings Sunday night, Konner Wade skulked off the mound and trudged, head down and eyes fixed, to his spot in the home dugout.
He spoke only when spoken to, and — even then — mostly in grunts. Occasionally, Wade glanced at a Bible passage written on the underside of his navy blue, block-A cap: "For the spirit God gave us does not make us timid, but gives us power, love and self-discipline."
"I don't like talking to people in between innings," he said. "I'll give a guy knuckles every once in a while, but that's about it."
Wade guessed that he spoke 30 words in the Arizona Wildcats' 4-0, College World Series win over UCLA at TD Ameritrade Park.
His performance, however, screamed it. The Arizona Wildcats are national-title contenders.
Where are they now? Wade is pitching for the Tacoma Rainiers, the Triple-A affiliate of the Seattle Mariners. He has a 2-2 record and a 5.03 ERA in eight appearances, including seven starts. Wade appeared in seven games with the Baltimore Orioles last season.
Up next: Arizona (45-17) vs. Florida State (50-16), June 21
June 21, 2012: Arizona thumps sloppy FSU to advance to championship series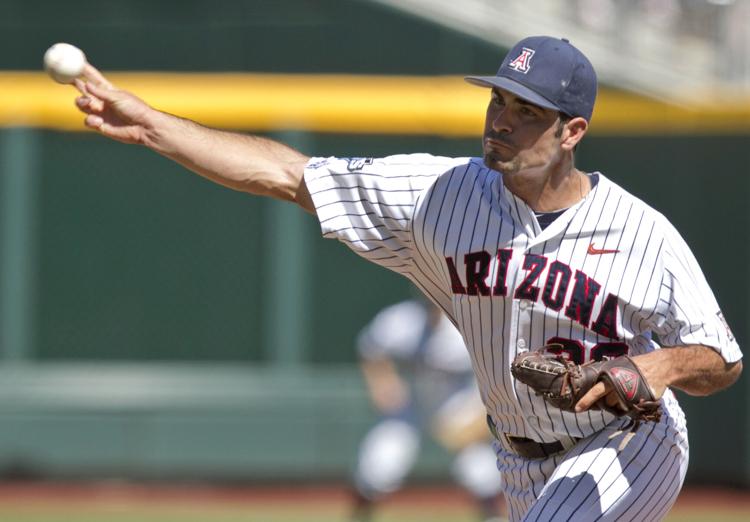 Arizona already had defeated the second- and third-seeded teams in the 2012 College World Series. To advance to the CWS Finals, the Wildcats would have to beat one of them again.
The UA's next opponent in Omaha turned out to be the same as the first: No. 3 seed Florida State, which eliminated No. 2 seed UCLA 4-1 on June 19.
The Wildcats had defeated the Seminoles 4-3 in 12 innings four days earlier. FSU rebounded with a 12-2 triumph over Stony Brook before bouncing the Bruins.
Date: June 21
Opponent: Florida State
Final score: Arizona 10, FSU 3
What went down: The Wildcats jumped on the mistake-prone Seminoles, blitzing them with six runs in the first inning and four more in the fourth en route to a runaway victory.
Arizona eliminated FSU and advanced to the CWS Finals to face the winner of the other side of the bracket — either Arkansas or South Carolina.
Florida State committed three errors in the opening frame. The UA took full advantage, chasing starter Brandon Leibrandt, who was charged with six runs — two earned — in one-third of an inning.
The Wildcats totaled 15 hits. Every starting position player besides catcher Riley Moore had at least one. Six players had two or more hits, led by right fielder Robert Refsnyder, who went 3 for 5 with a home run, two runs, an RBI and a walk. DH Bobby Brown went 2 for 2 with a homer, two runs, two RBIs and three walks.
FSU's miscues and Arizona's opportunistic offense made for a relatively easy outing for starter Kurt Heyer, who allowed two runs on nine hits in 7 1/3 innings to up his record to 13-2.
By the numbers: Heyer became the third pitcher in UA history to throw 150-plus innings in a season, joining Scott Erickson (172 2/3, 1989) and Gil Heredia (165 1/3, 1986). Heyer's 13 victories tied for eighth best in program annals and were the most by a Wildcat since Joe Magrane had 13 wins in 1985.
They said it: "They obviously helped us a little bit in that first inning, which was very uncharacteristic of a Florida State team. It's just a reminder that it's a game played by young people, and we caught some breaks today." – UA coach Andy Lopez
"We've had the mentality coming in here: We're slowing things down, being real confident. I don't know if it's necessarily easy, but we're a good team." – Brown
We wrote it: Kurt Heyer was working fast, pumping strikes and sweating hard Thursday when Alex Mejia chirped from the shortstop position.
"Come on! Let's go! One-run game!" he said.
Except it wasn't. And there haven't been many close games lately.
The Arizona Wildcats scored six runs in the first inning, Robert Refsnyder and Bobby Brown ripped home runs during a four-run fourth, and the UA blasted Florida State 10-3 Thursday to advance to the College World Series Finals. …
Thursday's win in front of 20,596 fans marked another dominant performance by college baseball's hottest team. The Wildcats (46-17) have won nine straight games, including eight in a row in the postseason. Six of their victories have come by three or more runs. They have scored double-digit runs four times during the playoffs and are outscoring their opponents by a combined score of 79-26.
The UA has made college baseball's toughest task — winning, and doing it on the biggest stage — look practically easy.
Where are they now? Mejia has developed into a star in the Mexican League for Acereros de Monclova. Mejia is batting .344 — his highest average as a professional — with three home runs and 32 RBIs in 45 games. The St. Louis Cardinals selected Mejia in the fourth round of the 2012 MLB draft. He spent seven years in the organization and appeared in 29 games for the big-league club in 2017.
Up next: Arizona (46-17) vs. South Carolina (49-18), June 24
June 24, 2012: Konner Wade stymies South Carolina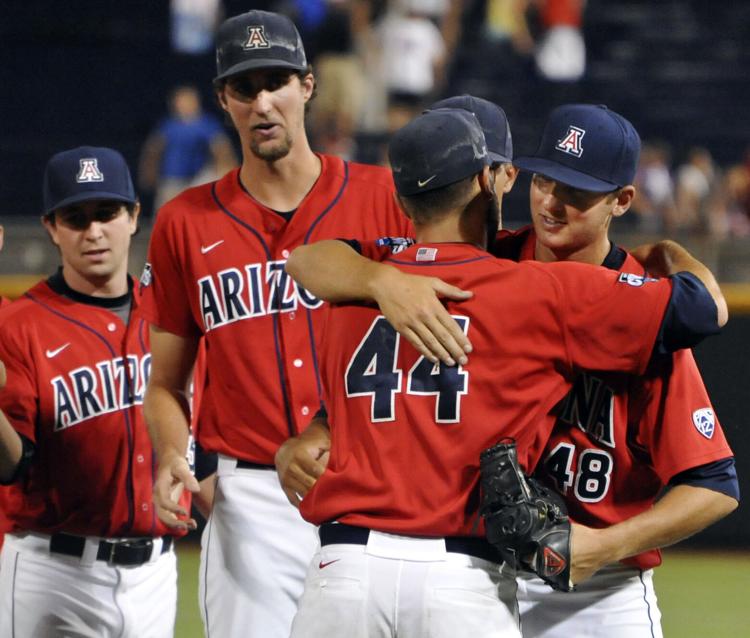 To win the 2012 College World Series, the Arizona Wildcats would have to defeat the program that claimed the crown each of the previous two seasons.
South Carolina won it all in 2010 and '11, and the Gamecocks advanced to the CWS Finals in '12 by twice defeating Arkansas, which had upended the two-time champs earlier in the tournament.
South Carolina boasted star pitcher Michael Roth and standout first baseman Christian Walker, who's currently a regular for the Diamondbacks.
While the Gamecocks had to grind their way through the losers' bracket, the Wildcats had two days off after eliminating Florida State. They played three games in seven days — all victories — in the CWS before facing South Carolina. The Gamecocks played five games in seven days.
Date: June 24
Opponent: South Carolina
Final score: Arizona 5, South Carolina 1
What went down: Konner Wade did it again.
Coming off a shoutout against UCLA, the sophomore right-hander authored another complete-game gem. He limited the Gamecocks to one run on six hits. Wade struck out three batters and walked one.
The win to open the best-of-three championship series put the Wildcats on the brink of their first CWS title since 1986.
Robert Refsnyder gave Arizona a 2-0 lead with a two-run homer in the bottom of the first inning. It was Refsnyder's eighth home run of the season and second of the CWS. He went 2 for 3 with two runs and two walks. Joey Rickard, Johnny Field and Riley Moore also produced multiple hits.
The Wildcats added single runs in the third, fifth and seventh. All five of Arizona's runs were scored with two outs. The five runs also were the most South Carolina had surrendered in the postseason.
Arizona's defense provided Wade with plenty of support as well. Shortstop Alex Mejia initiated a first-inning double play with a diving stop on a grounder up the middle. In the seventh, right fielder Refsnyder threw out a baserunner trying to advance from first to third on a single.
By the numbers: Wade became the first pitcher to throw two complete games in the same CWS since Jason Windsor of Cal State Fullerton did so in 2004. The walk Wade allowed in the sixth inning snapped a string of 31 consecutive frames without a base on balls.
They said it: "I was fortunate enough to run into it. Sometimes, if you close your eyes and swing really hard, good things happen." – Refsnyder, on his home run
"We're not dumb. We don't want to treat it like any other game. It's the national-title series. But to a certain extent, we do treat it like any other games. We need to move runners. We need to get the sacrifice flies. … As long as we do those things, I think we'll do great." – Mejia
We wrote it: The Arizona Wildcats' baseball season was hanging in the balance earlier this year when coach Andy Lopez adopted a new mantra.
One in a row.
"I told them, 'I don't know if you can win 25 games in a row, but I've seen you win one in a row,'" he said.
Now, the UA needs to win just one more.
Robert Refsnyder ripped a first-inning home run, and Konner Wade pitched his second complete game in a week as the Wildcats defeated South Carolina 5-1 Sunday night in the College World Series Finals opener.
The UA (47-17) can claim its first national championship since 1986 by winning just one of its next two games. Arizona will face the two-time defending champions again tonight; the teams will meet again Tuesday, if necessary.
The Wildcats are aware of the Omaha stakes but will try not to be overwhelmed by them. The one-in-a-row stuff is old hat by now: Arizona has won 10 consecutive games and 17 of its last 19. The club has yet to trail in the College World Series.
Where are they now? Field, who went 2 for 4 and scored two runs, is playing for the High Point Rockers of the independent Atlantic League. He's hitting .221 with five home runs, 21 RBIs and nine stolen bases in 50 games. Field was selected in the fifth round of the 2013 MLB draft by the Tampa Bay Rays. He appeared in 83 games for the Rays and Minnesota Twins in 2018, hitting nine homers in 221 at-bats.
Up next: Arizona (47-17) vs. South Carolina (49-19), June 25
June 25, 2012: James Farris delivers as Wildcats take home fourth national crown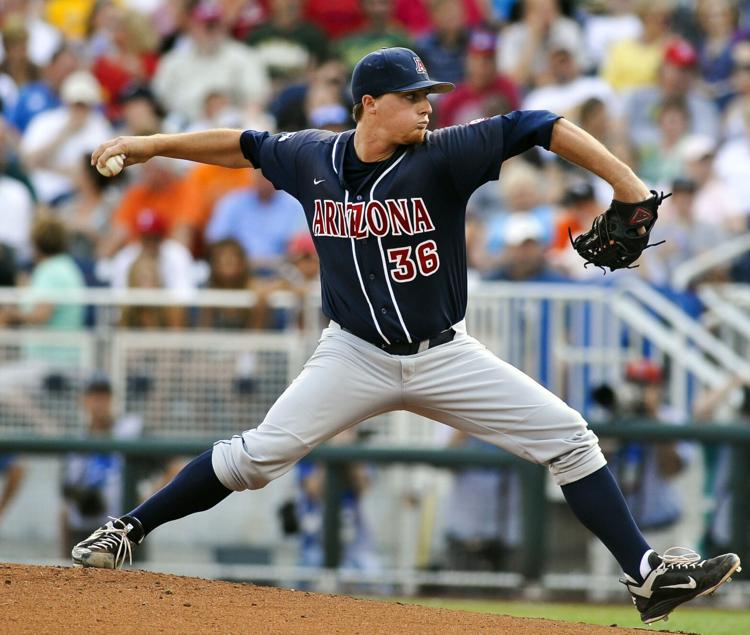 The Arizona Wildcats needed one more win to secure their fourth College World Series championship. They could deploy their winningest pitcher to get it done, but he'd be throwing on short rest.
It was an agonizing decision for UA coach Andy Lopez. Should he go with ace Kurt Heyer, who'd pitched just four days earlier? Or No. 3 starter James Farris, who hadn't pitched in over three weeks?
Lopez elected to go with Farris, knowing that if Arizona lost to South Carolina in Game 2 of the 2012 CWS Finals, Heyer would be available for the deciding Game 3.
The Wildcats had defeated the two-time defending champion Gamecocks 5-1 in the opener of the championship series, and starting pitching was the key: Sophomore right-hander Konner Wade hurled his second complete game in as many CWS starts.
Farris would face South Carolina left-hander Michael Roth, one of college baseball's top pitchers who had a sterling record in Omaha. On paper, the Gamecocks had the edge.
On the final day of our commemoration of the 10th anniversary of Arizona's 2012 CWS title, we'll revisit how that matchup played out. We'll also catch up with some of the key participants in the Wildcats' postseason run.
Date: June 25
Opponent: South Carolina
Final score: Arizona 4, South Carolina 1
What went down: Farris, a sophomore right-hander from Gilbert, matched Roth pitch for pitch. Each starter allowed only one run. Farris tossed 7 2/3 innings, Roth 6 2/3.
Arizona got to South Carolina's bullpen in the ninth inning. The Wildcats scored three runs in the top half of the frame to take a 4-1 lead. Freshman reliever Mathew Troupe then closed out the Gamecocks — though not without considerable suspense — to secure the CWS championship.
The Wildcats won the national title for the fourth time in program history and the first time since 1986. It was the 18th NCAA team championship for the school.
Farris came through in a big way, allowing only two hits in his first appearance since the final game of the Tucson Regional on June 3.
Arizona's offense sprung to life in the top of the ninth. Brandon Dixon's double drove in Rob Refsnyder, who had led off with a single. Trent Gilbert then delivered a two-RBI single. He went 2 for 4 with three RBIs.
South Carolina wasn't done. The Gamecocks loaded the bases with one out. Second baseman Gilbert then speared a line drive off the bat of Tanner English. Grayson Greiner's flyout to Refsnyder in right ended it.
By the numbers: Refsnyder went 10 for 21 with two home runs, five RBIs and six runs in the CWS, earning Most Outstanding Player honors. His 16 total bases doubled the next-best Wildcat. Refsnyder finished his college career with a 39-game on-base streak.
They said it: "That was the greatest thing I've ever experienced. That was awesome." – Dixon
"Our best players are our best human beings in the program, and that's a real deadly combination when you suit up as a team." – Lopez
We wrote it: Their so-called defensive substitution delivered the biggest hit of his life. Their No. 9 hitter battled like a cleanup guy.
The College World Series' hottest team found life when things seemed to be falling apart, and because of it, the Arizona Wildcats are national champions.
Brandon Dixon ripped a one-out RBI double to left field in the ninth inning and Trent Gilbert followed with a two-run single, giving the UA a 4-1 College World Series Finals win over South Carolina in front of 23,872 at TD Ameritrade Park.
The UA's fourth baseball title, and first since 1986, included two unlikely heroes. But Arizona's formula for success Monday remained the same as it was in its first four victories in Omaha: Pitch, play good defense and force the opponent to make a mistake. When South Carolina flinched, the Wildcats capped their charmed run through college baseball's most brutal gauntlet.
Arizona went 10-0 in the postseason and played five consecutive CWS games without trailing once. The club led 1-0 Monday night until the seventh inning, when South Carolina – the two-time defending national champions with an ace, Michael Roth, on the mound – pulled even.
Just as quickly, the Wildcats (48-17) pulled away. And then they partied.
Where are they now? Troupe just completed his first season as the pitching coach/volunteer assistant at Hawaii. He spent the previous two years as the director of player development at the University of San Diego under Rich Hill, who became Hawaii's head coach in June 2021.
Up next: Championship celebration at McKale Center.
Contact sports reporter Michael Lev at 573-4148 or [email protected]. On Twitter @michaeljlev